How to remove CoolWebSearch
CoolWebSearch (CWS) is a particularly nasty browser hijacker and has many variants - the makers of CoolWebSearch are coming up with new versions all the time. Most will alter your startup page in some way and/or redirect any urls typed without a prefix - many use a wide variety of different hijacking techniques all trying to trick the user and make it difficult to remove manually.
Ad-aware and Spybot are great spyware checkers but tend to miss many of the variants. Fortunately there is a very useful program called CWShredder (file from trendmicro.com>). This program can detect and automatically remove many variants of CoolWebSearch. I'd definitely recommend it.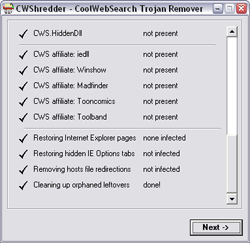 When the program starts be should to press Fix, make sure you close all browser windows before starting.
Other Variants
CoolWebSearch.alfasearch
CoolWebSearch.control
CoolWebSearch.cpan
CoolWebSearch.ctrlpan
CoolWebSearch.DNSErr
CoolWebSearch.ehttp
CoolWebSearch.excel10
CoolWebSearch.explorer32
CoolWebSearch.iefeats
CoolWebSearch.image
CoolWebSearch.keymgrldr
CoolWebSearch.ld
CoolWebSearch.madfinder
CoolWebSearch.mssearch
CoolWebSearch.mstaskm
CoolWebSearch.msupdate
CoolWebSearch.msupdater
CoolWebSearch.mtwirl32
CoolWebSearch.notepad32
CoolWebSearch.olehelp
CoolWebSearch.qttasks
CoolWebSearch.quicken
CoolWebSearch.soundmx
CoolWebSearch.sys
CoolWebSearch.time
CoolWebSearch.winproc32
CoolWebSearch.xplugin
CoolWebSearch.xpsystem